Crawford County Fair Ambassador Application
This application is for those wishing to apply for the Fair Ambassador position, successful applicants must be 18 years of age as of January of the year they are applying for.

Ambassador Nomination Form
Please use this form if you wish to nominate someone you believe to have the skills to be an amazing Fair Ambassador.

Future Fair Ambassador Application
This application is for those wishing to apply for the Future Fair Ambassador positions, successful applicants must be 9-17 years of age as of January of the year they are applying for.

Appearance request form
Would you like the Fair Ambassador to appear at your event or meeting? Please fill out this form and email it to the address on the form. Our Ambassador would be honored to attend!
Frequently Asked Questions
> New for 2016!
Attention all Community Leaders, Business Owners, 4-H, FFA, Girl and Boy scout leaders!
Do you know someone who would make a great Fair Ambassador? You can now nominate them to encourage their participation in promoting the fair! These nominations will be in addition to the regular applications.

Eligibility:
Nominees must be at least 18 years of age by Jan 1, 2018,
Nominees may be Male or Female.
Nomination Form must be accompanied by a letter of recommendation from Nominator.
Nominees MUST be a resident of the United States and the State of Wisconsin.
Only nominations for the position of Fair Ambassador will be accepted. Those under the age of 18 as of January 1st 2018 are not eligible.
________________________________________________________________________________________________________________
2017 Crawford County Fair Ambassador Royalty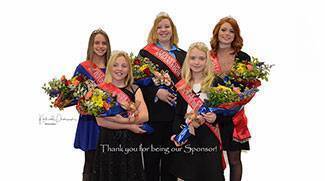 Back row: Mya Riniker, Keegan Eberling, Brooklynn Nagel
Front row: Michaela Cauffman, Brooke Mitchell
2017 Fair Ambassador Keegan Eberling is the daughter of Lynette Eberling. Keegan is a 2016 graduate of Prairie Du Chien High school and is currently attending Southwest Technical Collage. She has participated as an exhibitor at the fair, and has made sure to volunteer to help with the rabbit and horse shows. "I love the years I have put into the 4-H and the Fair. Now my goal is to show the youth of Crawford County what an amazing opportunity the fair is."
2017 Sr. Future Fair Ambassador Brooklynn Nagel is the 17 year old Daughter of Jon and Becky Nagel. She is currently in the 11th grade at Wauzeka – Stuben High school. Brooklynn has shown her leadership abilities in many ways, she was the 2016 Crawford County Dairy Princess and is currently the President of both her 4-H Club (the Eastman Cloverleafs) and FFA chapter. She also enjoys her involvement in her Churches youth group. Her fair career covers 11 years and countless memories exhibiting swine, sheep, rabbits and many crafts.
2017 Jr. Future Fair Ambassador Mya Riniker is the 13 year old daughter of Bob and Beth Saddler and Dan Riniker. She is an 8th grader at Bluff View public school in Prairie Du Chien. She is active in volleyball, basketball and track. Outside of school Mya is a trainer at CR Quarter Horses where she enjoys spending time with the love of her life…Horses! Mya is an active member of the Eastman Cloverleafs 4-H club, and truly enjoys her role as secretary. At the fair Mya is passionate about showing hogs and is excited to learn more about raising and showing rabbits.
2017 Jr. Future Fair Ambassador 1st Attendant Brooke Mitchell is the daughter of Bart and Amy Mitchell. She is a 4th grader at Wauzeka – Stuben middle school. Brooke enjoys many aspects of school, including: Science, Softball and Volleyball. Outside of school she is active in her 4-H club the Stuben River Runners, Dancing and Showing her families cattle. She has participated at the fair for four years now, exhibiting beef, swine, crafts and baking items. Brooke is looking forward to meeting new people in her role in the Fair Ambassador court.
2017 Jr. Future Fair Ambassador 2nd Attendant Michaela Cauffman is the nine year old daughter of Michael and Laurie Cauffman. She is a 4th grader at Kickapoo Elementary in Viola, WI, where she plays basketball and summer softball. Outside of school Michaela is a member of the Eastman Cloverleafs 4-H club, volunteers at the Crawford County fair and loves helping on the family farm. Last year at the fair she was very excited to exhibit swine, crafts and baked goods, and is looking forward to her next adventure at the fair.
________________________________________________________________________________________________________________
Do you want to be a Future Fair Ambassador? Apply today!
The Future Fair Ambassador contest in split in two categories: Senior Future Fair Ambassador and Junior Future Fair Ambassador. Juniors are candidates age 9 – 13 and Seniors are candidates 14 – 17 as of January first of the year for which they are applying. All contestants will receive a small gift. Runners up in either category will receive the title of Future Fair Ambassador Attendant. (Senior or Junior) Attendants will assist the Future Fair Ambassador (Sr. and Jr.) with fun promotional activities throughout the year and at the fair. Candidates will be judged on their personality and knowledge of the fair industry and fair promotional activities.
________________________________________________________________________________________________________________
Who will be the Next Fair Ambassador???
The Crawford County Fair Ambassador is the official ambassador of The Crawford County Fair. In addition to serving as the official ambassador of The Crawford County Fair, The Crawford County Fair Ambassador represents and promotes the Fair at events throughout Crawford County and beyond, including area parades, festivals, and other community events. The Crawford County Fair Ambassador will also represent Crawford County at the Wisconsin Association of Fairs Convention and participate in the Wisconsin Fairest of the Fairs competition.
________________________________________________________________________________________________________________
SPONSORS
$250 and Up




Peebles of Prairie Du Chien ~ $550

$100-$249
Brownlee Farms (Elizabeth & Wess Brownlee)
Deb's Flowers of Boscobel, WI
Northwoods Photography- Mikaela Baker
VLKleinow Photography

$50

ABC's Landscaping
Charlene & Rodney Boom; CR Quarter Horses
Cornwell Construction and Excavating - Terry Cornwell
Gerald & Brenda Nagel; Nagel Family Farms
Riverdale Ag- Muscoda, WI
The Local Oven
Tyler Nagel; Nagel's Fencing
Spring Creeks Cattle Co.

$25


$15